Gatatog Drago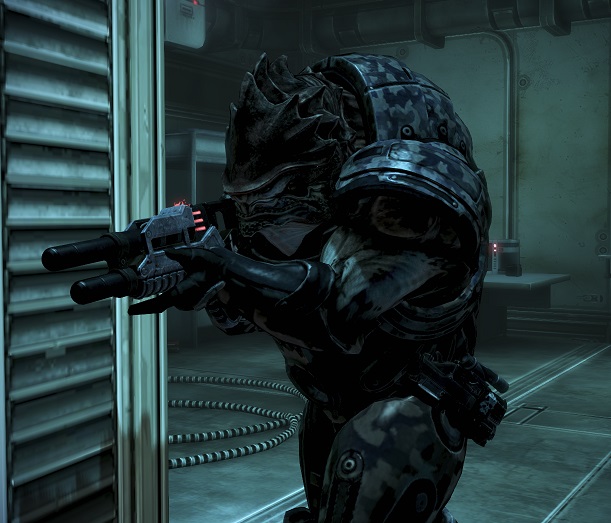 | | |
| --- | --- |
| Race | Krogan |
| Class | Soldier |
Gatatog Drago is an old Krogan Warlord with centuries of battle experience, cast out of his clan by a younger successor and his followers. Sometime in his recent career he teamed up with Zaeed Massani who shared his liking for fire, or maybe adopted it from Drago.
He was hired as a bodyguard for the son of a wealthy salarian as the Reapers attacked that world. He managed to save his client and some other people in an shelter. Days later he notices a stealthy shuttle landing not far away and told the others he would try to reach it to call for help. The young salarian wanted to stay and hide but Drago just knocked him down and took him with himself because he believed that to be the savest spot. So he went out with a handfull of combat ready survivors to reach the shuttle, right through hordes of Reaper forces. The shuttle brought a N7 recon team which was taken by surprise as Drago, the only survivor of his group, crushed through a wall into their hideout. Coverd in blood and guts with a unconscious salarian under one arm and a full-auto grenade launcer in his other hand. At gunpoint he demanded his client to be taken of this world at all cost, while he simultaneously begged the N7 Operatives to save the other survivors. Two things they could not decline.
That day many civilans where saved, many reapers where killed, and Darco decided to die fighting those invaders, but not before he took his share of them with him. Some rumors say on that day he snapped the neck of a brute before his teammates could even take a shoot at it.
Dragos Combat-Strategy can be summarized in a few short rules: If it is a enemy, shot it with gun and carnage. If it is big or there are many, throw a Grenade first. If it is far away, take the pistol and blast his head of. If it is close, just beat it to death. This may sound simple and dull, but Dragos combat experience turns those rules into a whirlwind of fire, explosions, metall and one ton of krogan rage no enemy could resist untl now.
| | | | | |
| --- | --- | --- | --- | --- |
| Fortification | 5 | Durability | Power Synergy | |
| Carnage | 6 | Damage | Recharge Speed | Armor Damage |
| Inferno Grenade | 6 | Damage | Damage | Armor Damage |
| Krogan Berserker | 5 | Damage & Capacity | Power Damage | |
| Rage | 4 | Durability | | |
| | | |
| --- | --- | --- |
| Striker | | |
| | Ultralight Materials | Scope |
| | |
| --- | --- |
| Incendiary Rounds | Assault Rifle Rail Amp |
| Power Amplifier | Grenade Capacity |